Discover more from Five things on Friday
Five interesting things. It doesn't always come on Friday but there's always more than five. Want in?
Over 4,000 subscribers
INTRO
It's been a rough old week. After the Games Aid Gala a week or so ago I came down with a nasty flu (not the 'rona) and I'm pretty sure that brought about a mild case of sinusitis with it. Not. Fun. Blergh. So I write this to you - well, at least - I start writing this to you at 19:08 on the evening of Friday October 27th.
I've no idea if this will go out on time (if at all) so let's see how we go, shall we?
First thing first, how have you been? If you get this as an email, hit the reply button and tell me. I do like hearing from you and seeing/hearing what you're up to. Don't be a stranger etc :)
Second thing, our amazing launch work for Diablo IV got shortlisted for two Drum Awards earlier today (one for innovation (we built it in UE5 y'know) and another for just being spectacular, apparently). Which was a lovely to end the week.
So swings and roundabouts and all that.
Given the intermittent headache, I might just see if we can crack through this quickly this week - shall we try?
Let's.
TO THE THINGS!
---
1. 'FOR ME, IT REPRESENTS THE DEATH OF THE FUTURE'
Johny Pitts on Lost in Translation at 20.
This did the rounds earlier this week and I've returned to it a couple of times since. I'm not sure why. A poignant reflection of a before time. Out of time. A movie that hasn't dated well but along side that, and many other relevant points are explored thoroughly by this perfect piece from Johny Pitts.
---
2. HERE IS A SECTION THAT CONTAINS SOME PLATFORM UPDATES. SORRY.
That may or may not include updates on Threads, the platform formally known as Twitter, and others. I know you probably get this news elsewhere but I would like to think my curation might be worth something…
1. Threads nears 100m MAUs.
I mean, that's some serious scale. It wasn't that long ago that everyone was wanging on about how Meta had sodded this up and how it was literally haemorrhaging users every single day. I guess they were all wrong and will be publishing retractions immediately? Cool, cool.
(fair play to Gruber, mind)
Bonus: EU support is coming. Polls and Gifs are now native to the platform. And more and more people arrive every day. See you there?
2. It's been a year since that bellend bought Twitter.
It's going as well as you can imagine.
On both of the above combined,
is excellent (as always).
3. Reality Labs continues to lose money.
Another $3.7bn for the most recent quarter to be precise (I love earnings call season), Zuck said/warned it would continue to do so - ages ago. But still. It's gotta sting a bit, moreso when Threads just flies. The very definition of a long bet.
…
---
3. THIS WEEK IN GAMING
Forces for change.
British Vogue with this fantastic look at some of the brilliant women (along with some on point stats) carving out the future of what is basically the biggest form of entertainment in the world.
The fact is, there are an estimated 3.2 billion gamers in the world – this writer included – and by the end of last year the industry was worth a staggering £160 billion. You might not consider yourself a gamer, but there's no getting away from gaming's influence on our lives and culture. From prestige TV (see multi-Emmy nominated series The Last Of Us, based on the apocalyptic action-adventure game of the same name) to cinema (after Barbie, The Super Mario Bros Movie was this year's second highest-grossing film) to the apps on your phone (Candy Crush Saga has, to date, been downloaded more than three billion times), it is, as video game executive Siobhan Reddy says, "the medium of our time".
This is my must read of the week.
So… READ IT.
…
WHAT ELSE CAN I TELL YOU?
Long-time readers will know that I've been following the EAFC/Nu-FIFA launch closely - ever since it was announced in May of last year, in fact.
This week there was some commentary and reflection on the FC/FIFA switch sales being the cause of a 'YoY sales decrease of 30%' and, given that this year is the year that EA walked away from the cost-prohibitive FIFA licence and instead launched FC, some Linkedin punters were quick to highlight how '30%' was in fact 'the cost of brand'.
This is demonstrably untrue.
The problem with a certain section of marketers these days is the ease at which they want the answer to be simple. A one sentence definition to a problem that so swiftly and deftly explains everything away that it a) makes them look smart for spotting it and b) paints a picture of an easy fix.
When it comes to the EAFC '-30%' number, first and foremost this is based solely on retail sales. Digital sales numbers are not often shared by the platform holders and so that data is hard, night impossible to know or pin down.
Making sweeping generalisations on incomplete data is a fool's errand. Don't worry, we'll get to all the potential data points that might impact the -30% number in a moment however - if there's one piece of advice that I always give to people it's this: go the extra click.
Find out the data behind the headline and dig into the numbers, the trends, the macro, the micro, and then MAYBE make a strategic leap.
To come back to FC24's sales, as much as I would LOVE to scream that this is ALL brand brand brand - of course I would! I'm a planner! - you can't. Because being a good planner means poking holes in data. It means seeing and asking what else is missing; asking better questions and getting to better answers.
For example, what else could impact EAFC's lower-than-last-year's RETAIL sales (so discs, boxed, from a shop).
Well,
Physical (vs Digital) sales continues to decline YoY (last count, 9/10 game sales were digital - vs 7/10 in 2022).

2023 is one of the most crowded AAA release windows in history.

Not only that, but AAA 'next gen' games being £70 in an economic downturn (meaning if people are going to buy a game this year, will they buy last year's rebadged FIFA or will they buy COD or Spidey or Mario or Baldur's Gate or or or).

Even at 30% down EAFC is still the second biggest boxed sale of the year (second only to Legend of Zelda: Tears of the Kingdom).

FIFA 23 is widely regarded as a series high point - and core players have grumbled there's not enough difference between FIFA23 and FC24 (apart from on Nintendo where the game has been the same since 2019 - and FC24 has actually seen an uptick on last year's - because the game is actually different - at last).
The point is: FC24 would be ice-skating uphill no matter what name was on the box.
And on top off all the above, it has invested well and wisely on the first step of the LONG while others scream and shout about the SHORT.
EA brand marketer's aren't idiots and when you scratch the surface all this, I'm pretty EAFC is going to be OK.
Let's have a look at EA's next earnings (due next week) and see what happens - and then let's regroup again at FC25 to see how well the brand has really settled in.
All this and it's still saving $150m a year for that FIFA licence in the process…
QUICK NEWS BITES
WHAT AM I PLAYING?
Honestly, if I'm not playing Spider-Man 2 then I'm probably a) talking about Spider-Man 2, b) posting Spider-Man 2 content on Threads OR c) sneaking a quick level on Mario Wonder (see, Mario is getting a look in - honest).
But just LOOK at this RIDICULOUS game.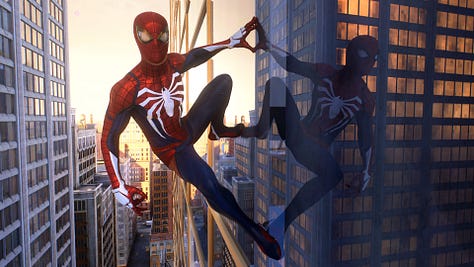 For the uber-nerds among you, I'm playing on Fidelity mode but on a 120hz TV and thanks to the geniuses at Insomniac, that means its churning out 40fps (feel free to go deep on that via Digital Foundry).
Additionally, Super Mario Wonder is a JOY. If you've picked it up, then you may or may not already know about THE COG, aka the CHECKMARK. Don't know what I mean? Well, this video should educate you (and ruin your life a bit - sorry).
Alan Wake II also came out today. Pals are [already] playing through that and are reporting good things. I will get to it… at some point.
I've also been playing [REDACTED] ahead of it being announed next year. And I'm quite enjoying it!
What are you playing?
---
4. THAI FOOD NEAR ME
You think this might be a joke. But it isn't.
Thai Food Near Me is a small but powerful symbol of Google's far-reaching impact on businesses over the past two decades and the lengths their owners will go to try to optimize their operations for the company's platforms. The name is both notable and obvious — if you've spent any amount of time searching for things online, you will understand the reference immediately. The turn is that 25 years after Google Search first arrived, the name says the quiet part out loud.
---
5. DUNE X LEGO WHAT SORRY WOW
…but I don't know where I'd put it [sob]
---
BONUS SECTION
THIS IS THE BONUS SECTION. BONUS LINKS THAT BUMP US OVER FIVE THINGS BUT DUE TO TIMING AND SELF-IMPOSED WRITING RESTRICTIONS ARE LIMITED TO PITHY COMMENTARY ONLY.
ENJOY.
---
YOU ARE REACHING THE END OF THE NEWSLETTER. WHAT'S THE BEST THING YOU HAVE SHARED RECENTLY?
A couple of weeks ago I was chatting to a friend about seeking some help through therapy.
As an aside, I don't know if you've ever done this before but I have and (if you have the healthcare in place) the process is: get a referral (or pretend you have one - they never check), then see a consultant psychologist for an assessment, then you go and get your therapy - usually from a therapist your psychologist recommends. At least, that's how it has worked for me the two times I have been in therapy.
We looked up the guy who was my original consultant - as I wanted to recommend him - and it turned out he had taken his own life.
To say that it was a shock would be an understatement. I don't really know why I'm sharing this. It was incredibly saddening.
I don't know how else to say this but I'll say it again - and I'll keep saying it - if you are feeling like there's no way out, like you're in urgent despair, then please please please please please speak to someone. Speak to these people. Speak to me.
You're not alone. You never are.
I promise.
You're a beautiful person.
It's 23:36 on Friday and I'm hitting send.
Until next time,
Whatley out x