Five things on Friday #311
Things of note for the week ending Friday July 17th, 2020.
INTRODUCTION
The last time I hit send on one of these it was February 7th 2020.

And to say "A LOT HAS HAPPENED SINCE THEN HASN'T IT?" would be an understatement.

So let's start from a place of you not needing yet another email that goes over the hot takes, hits, and messes of the past 160 days and let's just CRACK ON with what is interesting, what is now, and what has caught my brain over the past however long it's been. 

All I will say is that I hope you are well.

I hope you and your family are safe, coping, and finding new ways to breathe through it all - one day at a time. I know that with good grace I am thankful here, I am alive, and I think... 

I think I have missed you. 

...

But let's not faff. 

We have some stuff to get to.

So let's go... TO THE THINGS! 

PS. If you're new here, FToF is a [nearly] weekly collection of things I find the most interesting. Some chat, some gifs; standard newsletter fair - but doing it before it was cool. So y'know, you're an early adopter. 
1. CELEBRITY CULTURE IS BURNING

I swear I've read this about six or seven times now and it gets better and better every time.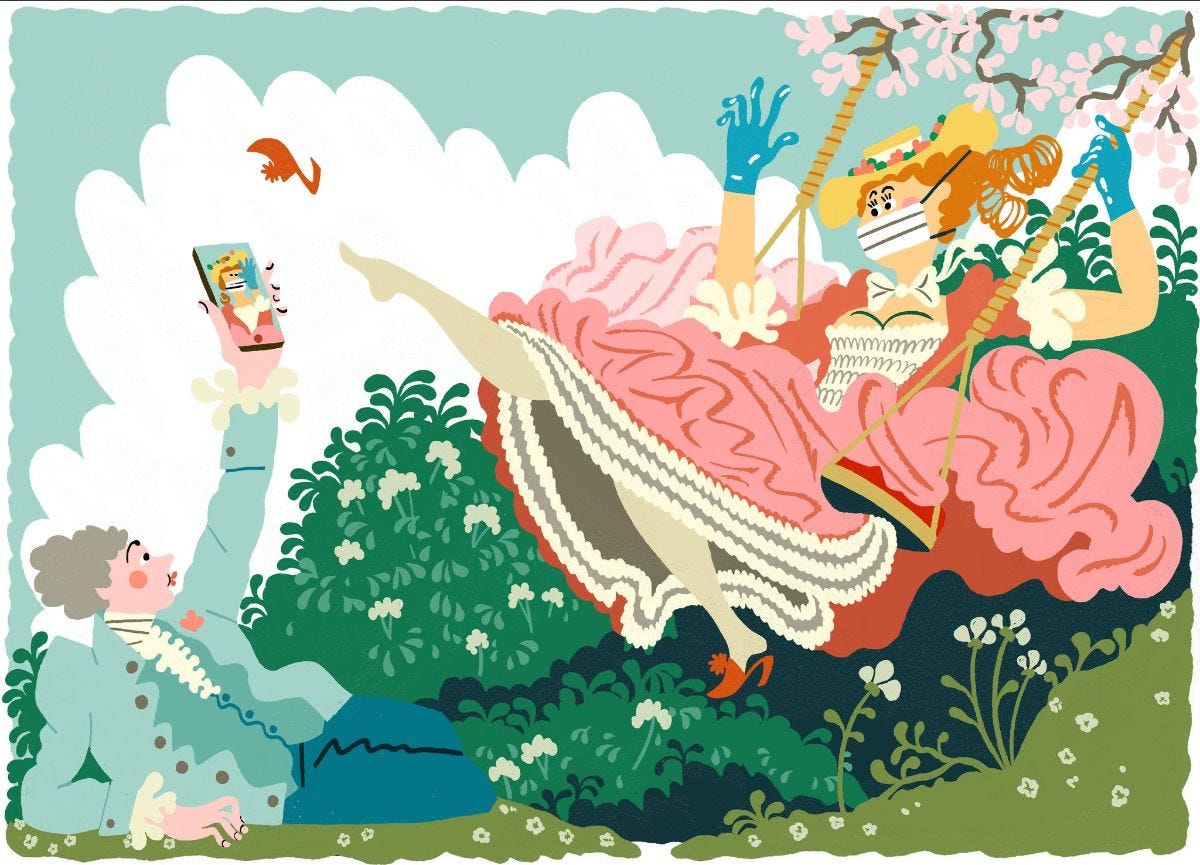 "America is in crisis, but the celebrities are thriving. They are beaming into our homes, reminding us to stay indoors and "stay positive," as "we're all in this together." When I watch their selfie public service announcements, I find my attention drifting to the edges of the frame: to the understated wall molding visible behind Robert DeNiro's shoulder; to the Craftsman beams on Priyanka Chopra's balcony; to the equine wallpaper framing Zoë Kravitz's crackling fireplace.

"Staying home is my superpower," the "Wonder Woman" star Gal Gadot reported from her walk-in closet. Ryan Reynolds urged his fans to "work together to flatten the curve" from within his rustic loft."

Wait. 

There's more. 

Actually. 

Oh.

No. 

No there isn't.

Any more would be to spoil it. 

Please read the whole thing.

If only to see for yourself that Gal Godot left that damn 'IMAGINE' video up on her Instagram.

I said at the top that I've read this several times now. It's good to know and understand that the article in question was published on March 30th. Seven days after the UK went into lockdown. The fact that this piece still resonates should tell you something.

Shy away from the vacuous; it is not worth your time.
2. THREE THINGS ABOUT A PLINTH

Thing one.
The toppling of the statue of known slave trader, Edward Colston, is a good thing.

Some may argue 'Oh wait, but we should've had a conversation about it' or 'No no no, this wasn't done in the right channels' or better yet 'This is actually illegal and if we all went around doing this we'd all be living in anarchy'.

Respectfully: do one. 

And that may seem crass. It may seem out of step with what you believe. Well I beseech you: before you say, or do ANYTHING further, PLEASE take less than two minutes out of your day and listen - just listen - to this stunning poem by Vanessa Kisuule. 

Thing two. 
The recent if extremely (and entirely planned to be) temporary replacement statue for the above named slave trader is a STUNNING and BEAUTIFUL piece of work.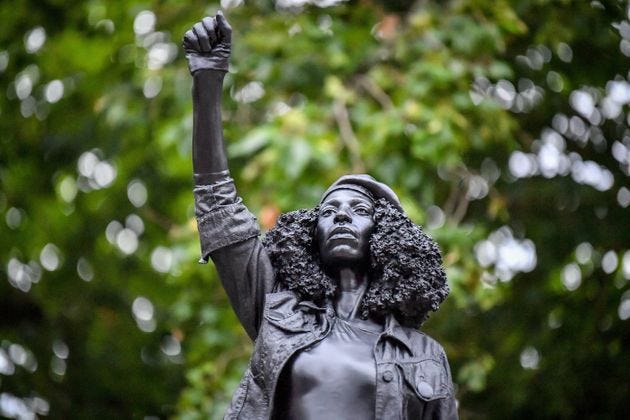 Jen Reid, by Marc Quinn.

The work, if you are unfamiliar, is based upon Reid's own pose struck upon the removal of hollow Eddie. 

I wish it had stayed.

It did not.

But this is probably a better thing. 

And here's why.

Thing three. 

Given the flashpoint of anger, conviction for change, righteous demand for effective difference -  you could easily be so caught up on why this is beautiful and not, as I didn't, see why this replacement could be seen problematic - if not emblematic - of the problem we are collectively trying to solve. 

I do not have the words. 

I could not find the words if I tried. 

These are the words. 

And firetruck me they strong words. 

When the plinth that the slave trader comes to be replaced, I hope it comes with the agreement and consultation with the community and voices that matter most.

Listen. Heed. Remember. Act. 
3. THIS WEEK IN PROFILE PIECES

Ahh section three. A weekly (really? - Ed) thing that has morphed in a new beast known as 'THIS WEEK IN (or AT)'.

(For the record, the last 'THIS WEEK IN' was 'THIS WEEK IN FACEMASKS' way back in February - so y'know, make sure you're tuning in to my VERY TOPICAL CONTENT every week)

This week: two great profiles, the man behind them, and a KILLER quote to end them all.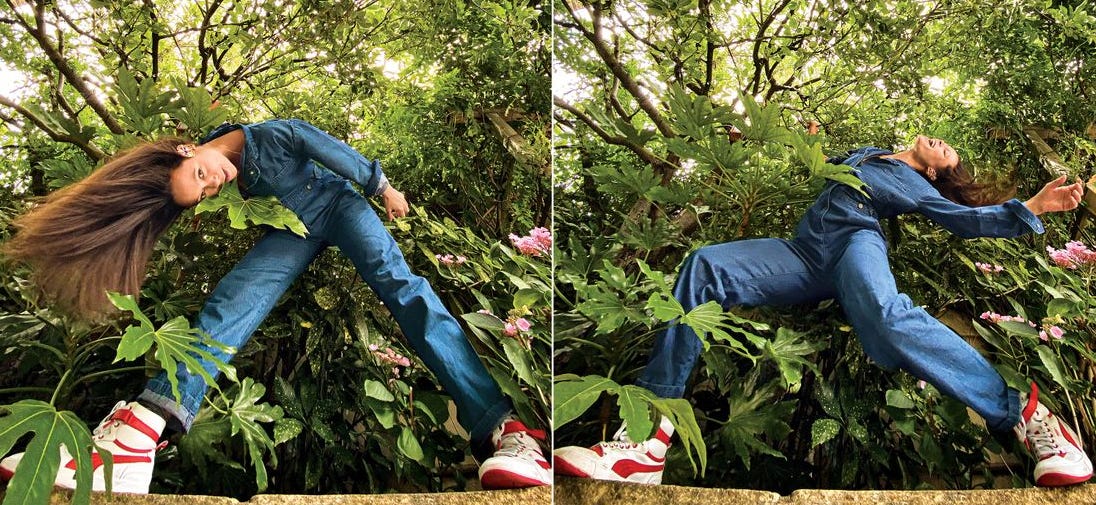 Fair warning.

There is some reading ahead of you.

It's funny, I read this first profile piece and I thought: "I think I can feel a Five Things coming on" and then the second and 'Yeah, it's coming' and then I found the third and I knew it was Thing Three in an instant. 

So settle in (or open a new tab for later), these are coming at you fast. 

PROFILE ONE: MICHAELA THE DESTROYER
I read this first. I must confess, I am not quite yet in the headspace ready to watch I MAY DESTROY YOU (I want to but given the subject matter, I'm just not there yet) but my God, Michaela Coel is an incredible person. I watched her MacTaggart lecture after I read this. The fire. It is intense. It runs and burns at such heat. And yet you can't keep away from it. You are drawn to it. And like all warmth, it should be nurtured - and allowed to grow and warm others. 

PROFILE TWO: IN CONVERSATION: THANDIE NEWTON
Now this is a bloody good read. I don't know why I feel connected to Thandie Newton. This is weird. But true. She used to shop at the same farmer's market I used to go to (yeah yeah whatever). But it's one of those things where you think you know someone because you've actually seen them in the real world a couple of times (a good few times actually) but whatever - the point is: the interview is superb. And Newton's answers, constructs, and reflections are all worthwhile. Take the time and consume them all. There are lessons there. 

[NOT A] PROFILE [BUT THING] THREE: A NEW YORK MINUTE WITH E. ALEX JUNG
I love a good profile piece. What you don't get much of is what MAKES a good profile piece. There is a lot in this piece but this question - and answer - made the whole thing for me.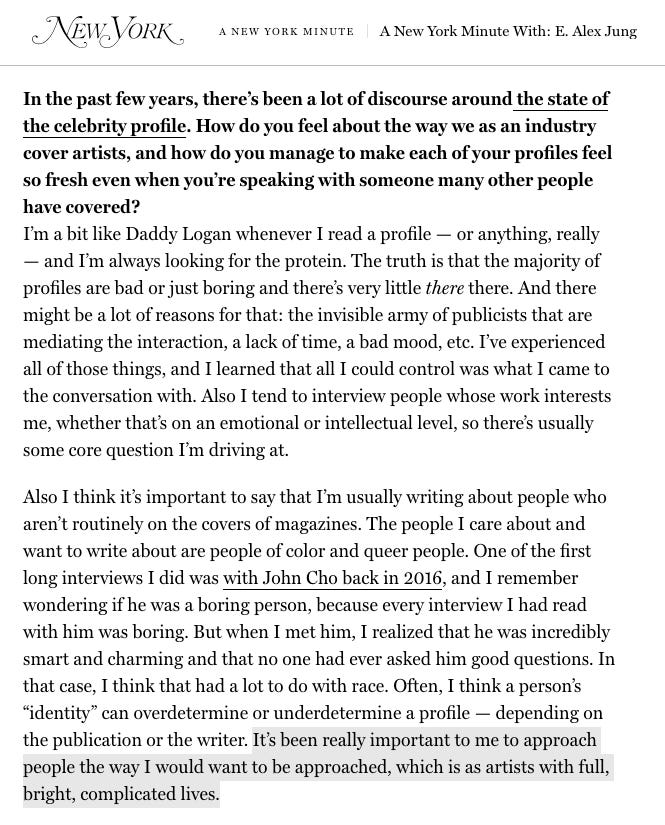 "It's been really important to me to approach people the way I would want to be approached, which is as artists with full, bright, complicated lives."

For some reason or anot` stayed with me.

I hope it stays with you. 
4. (ISOLA)TED TALKS

This.

Is.

Excellent.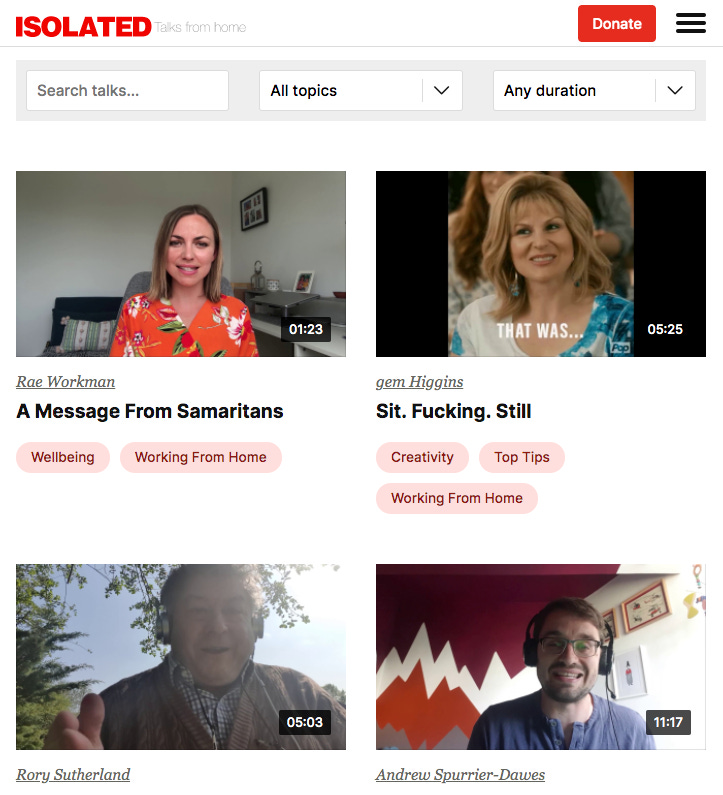 The brainchild of Giles Edwards and Glenn Fisher, IsolaTED Talks (geddit) is a purpose driven platform that takes the freedom of ideas as encouraged and endorsed by TED, powers those ideas by the finest minds in advertising, and then uses that power to drive funding to The Samaritans. 

It is an incredible project. 

My favourites so far (in no order) are: 

- Gem Collins
- Nick Childs
- Amy Kean

Please watch them all.

Amy makes you hold your breath. Gem makes you breathe. Nick reminds you why you breathe.

A perfect trio.

But by no means the be all and all of the abundance of talent that Fisher and Edwards have managed to pull in. 

Go swim. And then donate to The Samaritans. Please. 
5. TIK-TOK, HUAWEI, AND THE VERY REAL TREND OF VERY REAL TRENDS

I had a whole piece planned for this where I looked at the potential ban of TikTok that is rumoured (and in some instances happening) across the globe; combined that with the relatively lengthy unrest regarding Huawei's integration into the telecommunications systems, and what the future holds ahead.

The two are arguably intertwined. 

As much as I don't trust our government to FUNCTION let alone make any kind of coherent decision, the work that has been going on behind the scenes for the past few years is undeniable and, if you have been tracking their output, the decisions of the past few days would be unsurprising. 

July 2018. 
March 2019.
July 2020.

There is a slight point here re: if you need to set up a security evaluation centre for the one company you're working with then maybe you're already starting off on the wrong foot? But maybe that's not for now. 

That's a lot to unpack - and that's just Huawei. Move ahead. Forward. And you see TikTok on the horizon... This is provocative.

I'm still noodling.

Could TikTok be banned because:

- Trump had a bad event?
- The US puts pressure on the UK? 
- Government is racist/xenophobic/isolationist?
- People don't understand it?
- All of the above?

Truth is: none of us know. 

Point is: challenge and question everything you read.
STOP. BONUS LINK TIME. 
OH YEAH. HERE WE GO.
HOOK IT IN.
LINK ME BABY.

Bonus things that may or not include the actual things that would've been featured in any and every edition of FTOF that I didn't write between now and Feb.

LET'S GO!
YOU ARE APPROACHING THE END OF THE NEWSLETTER. PLEASE WATCH YOUR STEP. 

You have reached the end of the newsletter!

Three things to leave you with.

BLACK LIVES MATTER.

TRANS LIVES MATTER.

WEAR A GODDAMN MASK.

Other than that, I have a whole other monologue about how it's been like-oh-my-god-like-so-difficult-to-like-write but for real it has. I don't know what my voice means right now but I'm finding it again and I'm OK with that.

Sometimes you should just stop.
Take your hands away and stop for a moment.

Words to stay with you. 

Thank you for reading. 

Whatley out.



..

PS. Write back.