Things of note for the week ending (not Friday but) Sunday 14th, 2019.
Newsletter #292: Introduction

Hello gorgeous.

As I start this week's introduction it is Thursday. 21:36. I am at the office and there is a pause in proceedings (in short: dinner has arrived and my name is yet to be called), so I write.

- - -

Actually, scratch that. Literally, as I wrote that sentence, my name was called. Standard. My food was eaten and now? Now It's 23:53 on a Thursday night as I (re-)start this section.

Pitchmas Eve.

Tired.

But exhilarated.

Big Pitch Energy.

'I've not seen you like this for ages' she said. And she was right. 'You look good' someone else remarked, 'Thanks, I'm happy.' I responded, 'Happier than I've been for a very long time'

This too shall pass.

But for now, I'm going to settle in, soak up, and marinade the living hell out of this gorgeous feeling.

I guess I'd forgotten what it felt like to feel valued. That's quite a big statement. Maybe I need to sit with it for a while before I unpack it any further. Let's review it in a month (I'll set a reminder and we'll revisit it - plan? Plan). The only thing I would add if you're not feeling that right now, find something new to do. Something new.

Look around. Look outside. It might be cold but the sun is shining. Spring is coming. So spring already.

Where was I?

That's right...

It feels like every week I'm saying this at the moment BUT hello and welcome to the newbies. So many in fact I might have to give this email list a clean at some point soon (fun fact: Mailchimp allows newsletter writers 2000 free subs before it starts charging).

A big hearty welcome back to those that still subscribe (you're all lovely).

We've got a lot to get through this week and some absolute belters to look at.

Shall we crack on?

LET'S.



1. DR KATIE BOUMAN

It is entirely allowed to have a girl-crush on Dr. Katie Bouman.




Without Katie, you probably wouldn't have all seen this week:




First, this photo is amazing (almost as amazing as this photo of Kate as the image started 'developing').

Second. I could try and tell you about Katie, and the how the photo was made etc... but why waste time when there's a great 12min explanation on how it was done from Kate herself? Here's Katie's 2016 TEDx talk on the HOW behind the work (I love love love that this actually happened. Love it. And I love that there's a talk telling you all about it too).

Third, this is one of the best things I've read about this so far is this article looking at some of the rough maths behind why, when transferring petabytes of data (see image above), planes are faster than the internet.

Thanks for giving us all a lesson in perspective, Katie.

We all need that right now.
2. MANAGING CHAOS

We're moving from one awesome woman to one awesome man.

This week, CMO at Brandwatch and all round lovely human, Will McInnes posted an article called 'Managing Chaos' and it really is excellent.

Possibly the best business-related thing in this week's rundown - and maybe one of the best things I've read about being an-actual-person-in-a-mental-workplace-making-things-happen I think I have ever read.

As an ex-startup guy, this spoke to me. As an agency man going into a pitch this week, it spoke to me again.

If you read one thing this week, then you should absolutely read Managing Chaos.

PS. The best thing? This is first of a series from Will so you should follow him on Twitter or subscribe to his blog (what year is this?) or something like that.
3. FLEABAG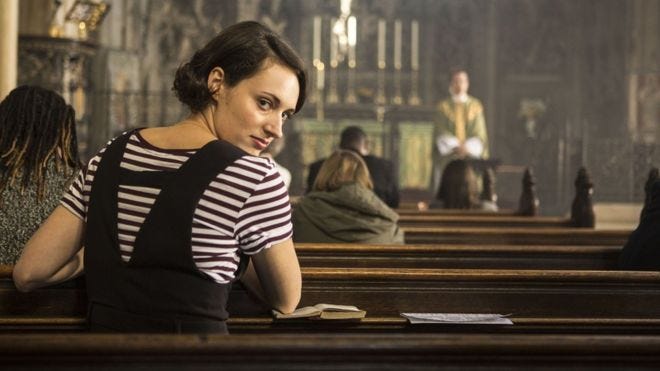 I think this might be the third time that Fleabag has appeared in this here cinq choses le vendredi and I am totally fine with it.
REASONS.

The main reason is that this past week I finally finished the second AND LAST series/season of the TV show. And. It. Was. Perfect.

I first saw Fleabag at the Edinburgh Fringe. In 2013. As a one-woman show with Pheobe Waller-Bridge at the helm. It was the final (and 18th) show we saw over the course of three days and it was phenomenal.

In fact, I've got the original write up right here:




Following its journey from then til now has been great. Watching the final final FINAL ever episode on Wednesday (it really is the last one - and rightly so, you'll know when you watch it) made me realise/remember why PW-B is just such an amazing talent.

Right now, Season/Series 2 of Killing Eve is on its way to the UK (arriving who knows when) and PWB is taking the original Fleabag back to Broadway.

Two things to take out of this particular thing:

1. I can't wait to see what Waller-Bridge does next.
2. If you've not seen Fleabag, you should fix that.
4. DAVID BECKHAM DEEP FAKE

This is wicked good.




This video of David Beckham reminds me of my friend Iain (hi Iain) but not for the reason you might think.

About a year or so ago, I was asked to contribute to a trend document for Government Communications Services. Two think pieces (that turned into two chapters). One on voice tech another on ethics. Proud of that work - and I think I've linked to it from here before.

The first chapter, however, which I think Iain wrote, was on next-generation fakery. The advent of fake news. The [entirely correct] re-badging of that one bucket term into two terms: disinformation and misinformation. And deep fakes. Deep fakes are the next level of fakery. It's the famous video of Jordan Peele deep faking Obama. All of it is set to create major issues across the modern world over the next five/ten years. And we - as far as I know - as yet have no real way to combat it.

AND YET.

Here we are with a perfectly decent use of the technology to help David Beckham launch the Malaria Must Die for Malaria No More. Right click, open in new tab this Campaign article to find out more about the story.

This is a great video. For an equally great campaign.

What is it they say? The roads to hell are paved with good intentions...?
5. ROBYN

Friday night, I finished work, got the tube to Finsbury Park, caught the W3 bus to Alexandra Palace to see this woman. Robyn.




That was Friday night.

The first gig that I can remember in so long that I stayed 'til the lights came on.

So much singing. So much dancing. Hands in the air, carefree, emotional DANCING.

Three encores.

This privilege.

It was one of the best gigs I've ever been to in my entire life.

From the moment Robyn stepped onto the stage, we were ensnared. Entirely spellbound. And we were hers. Seduced by her magic. Her voice. Her music. It felt like we were all guests at her own private house-party-cum-private-rave and it was utterly magical.

I am still, believe it or not, quite lost for words about how it all.

I will leave you with three things.
The Telegraph wrote the only review I can find for Friday night's gig and holy hell does it do a bang-up job (it's paywalled but you can get to the article just by registering - it's worth it).

This moment? I was crying. I think everyone was. Anthemic. An incredible moment.

The last time I wrote about Robyn in FToF I linked to a fantastic long read about how 'Robyn Changed Pop' - this seems like a suitable time to relink to that. I'm reading it again as soon as I hit send on this.
Me? I'm still on cloud nine.

And will be for a while.

If you were there, tell me - I'd love to hear from you.
THE ESSENTIALS:
The Essentials are the weekly links to the #MeToo movement. Any article. Any press. Any story. Any white male firing. If it happens, it's here.
B O N U S. I SAID B-O-N-U-S.

THEY'RE DELIGHTFUL.