Five things on Friday #315
Things of note for the week ending Friday, October 8th, 2020. 

INTRO.
Bbum bum bdmum bumb bdump. 

Hello again. I hope you are enjoying the rain. 

I have two things to tell you. One about the email, one about me. 

Important logistics thing first. 

This will be the last newsletter sent to you via MailChimp. When the subscriber level knocked over into the 2000s about a year ago or so, I ticked over from the free offer into the paid for. 

'It's fine,' I said 'I enjoy it and I don't mind paying for it' and that was fine.  But, as the longer-term readers among you will know and understand, this weekly newsletter is anything but. Paying £30 a month to use a service that I don't use doesn't seem ...right. Once I hit send on this edition of Five things on Friday, I will be going into the guts of the chimp behind the mail, exporting everything, and then drag it all over to the shiny new kid on the block, Substack. 

As a result, there will absolutely be an edition of FIVE THINGS ON FRIDAY next week and it will be called FIVE THINGS ON FRIDAY #316. It might look different. It might smell different. Hell, it might not even arrive on Friday but but but but but but - it will be Five Things on Friday. 

Second. 

I write to through the dull throbbing pain of a broken ankle. An avulsion fracture on my left ankle. An avulsion fracture, as I have learnt, is basically when you pull your ligaments so hard and so badly that they actually tear a piece of bone off in the process.

Look.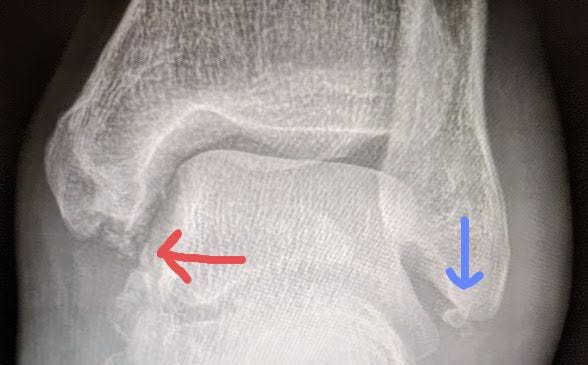 Blue is old, red is new.

Blue I did when I was 16. Slap bang in the middle of my GCSEs! Playing basketball in the street, did a lay up up onto a kerb, kerb was loose, it went one way and my ankle went the other. CRACK. 

Fast forward SOME years, and I'm taking a day off to go play DISC GOLF (it's golf - but with a frisbee, YES THAT'S RIGHT - thread), and I'm walking down a hill, put my foot straight down into a bunker and... CRACK. 

Fun fact! According to my orthopaedic surgeon, it is extremely difficult (impossible) to do the red injury if you haven't already done the blue one. So there you have it: medical proof I am a total clutz. 

 😭

Pain management has not been fun. But it is what it is. I am fortunate enough to have narrowly avoided both surgery AND a plaster cast but I am wearing a robo-boot for at least the next four weeks.

Your sympathy is welcome.

OK. So.

Where were we?

AH YES! TO THE THINGS!


PS. If you're new here, FToF is a not very weekly collection of things I find the most interesting on the internet. 

It's better than the other ones because I said so. Opinion + links > just links. In short: you've made the right choice. 
1. ASHLEY BANJO
The first of two VERY GOOD THINGS from GQ that bookend this edition of FToF. 

Here we go. 

"Almost 25,000 viewers* complained to Ofcom about Ashley Banjo and Diversity's powerful performance on Britain's Got Talent last month, making it one of the most talked about television moments of the decade. But does this make Britain inherently racist? For the first time since the show aired the man at the centre of it all goes on record to explain why he did it, what his message is and how that four-minute routine has changed his life forever"

*racists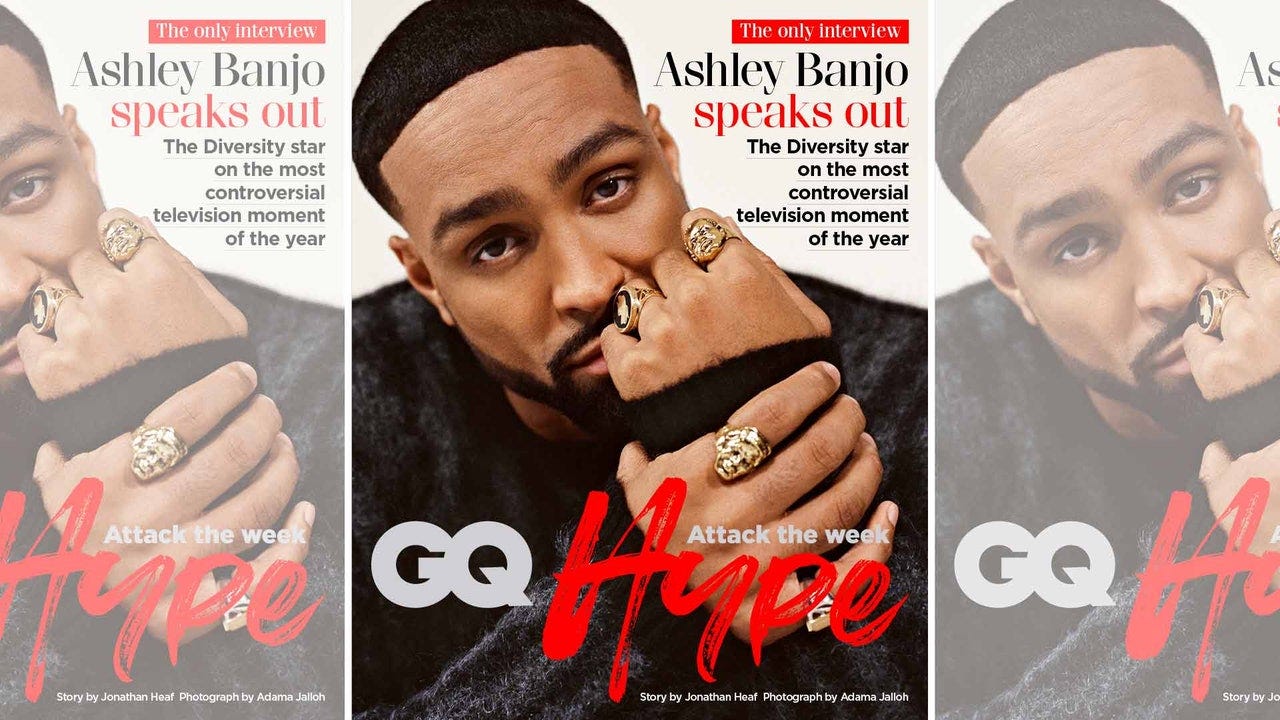 Ashley Banjo here, talking to GQ, in I think his only interview so far about the whole THING that happened with this frankly OUTSTANDING piece of dancing/movement/creative work.

Banjo is humble. Media smart (step toe-ing over journalistic traps with the ease of foot he shows on stage). And overall, an inspiration.

We're lucky to have him.

Find the time to read this.
2. THE NORMALISATION OF OVERWORKING IN ADVERTISING
SHOCK.

HORROR.

WE'VE ALL GOT STORIES HAVEN'T WE?

"Remember that Netflix pitch that went on FOREVER? Every weekend, all summer!"

How about:

"Do you remember that time we had to introduce a mandatory 5pm Friday beer to literally stop management working the agency past 9pm every week?"

Or.

"Remember when we pulled that all-nighter and the account exec met us at the client's offices at 7am with the updated pitch deck on a stick?" - "Yeah, which pitch was that - there were so many!"

One thing I bloody love about Digitas: respect for time outside of office hours. A rare beast. Like the Unicorns we are.

Shortly after I moved into proper adland someone threw me the now legendary (and I hope widely-known) piece from Linds Redding, 'A short lesson in perspective' (now gone but thankfully still readable via The Wayback Machine).

Key quote? Well, there's a few but perhaps this segment stands out the most: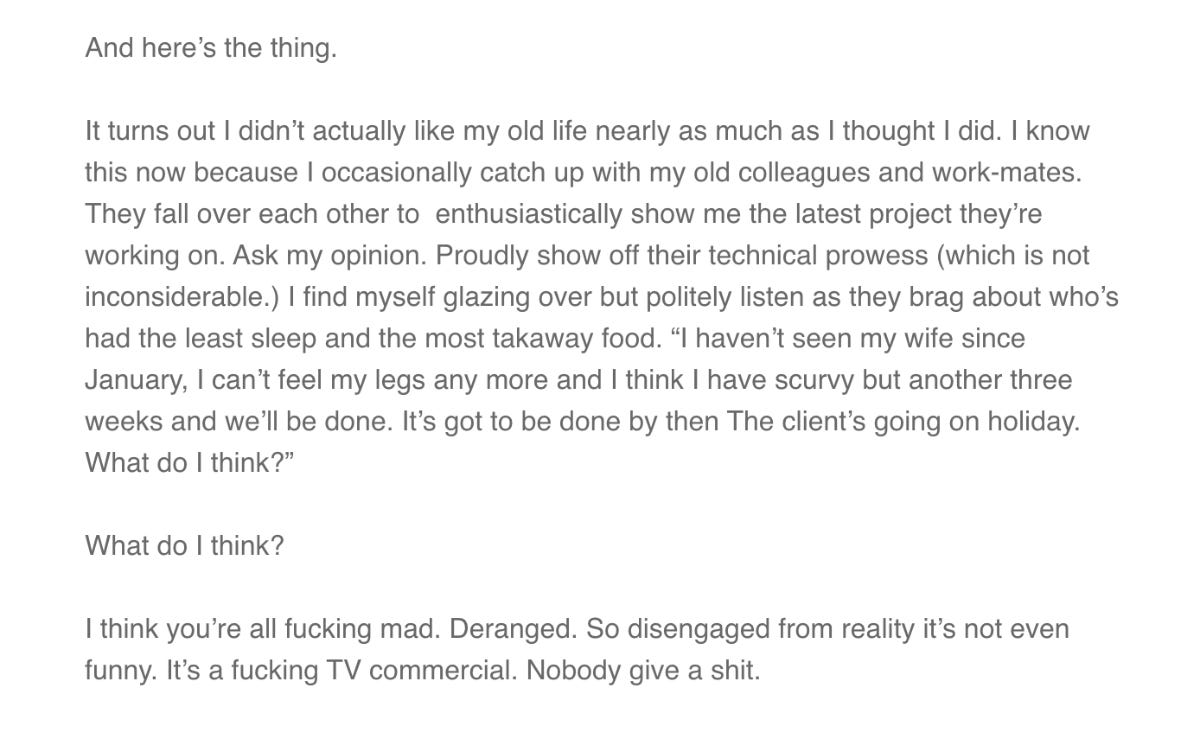 Print it.
Frame it.
Laminate the fucker and put it on the wall.

God, I forget what this writing does to me. 

---- deeeeep exhale ---- 

The point is, read Linds Redding. And then, when you're done with that, fire up Craig Ainsley's piece, titled as above.

This section stood out for me: 

"I feel fortunate to work at Mother. There's a healthy perspective. The empathy levels are high. But I speak to friends in the industry, and I've worked at other places too. A while ago I was working at an agency that were pitching for a global brand. I don't want to name names, let's just call them Anomaly London, 25 Charterhouse Square, Barbican, London EC1M 6AE. The hours worked over consecutive weekends on the pitch were punishing. Especially for the design department. Design departments always seem to get f*cked. There was a moment when the global CCO found out that one of the designers wasn't available for one of the weekends because it was his birthday and he was going away, so he said 'Unless you're pushing a baby out this weekend, you're working' He also sent an email to the whole pitch team explaining that they need to 'have a relationship with pain'. You've got wonder what this does for people's anxiety levels and their mental health. And also, it's just adverts mate."

Same energy.

Note to self: don't work for Anomaly maybe?

There's more (so much more). Of course.

So you should read it. 
3. THIS WEEK IN GAMING
This week in THIS WEEK IN, I'm doing gaming again. I was going to do Facebook (they've put out some good stuff lately) but instead I've relegated all that to the BONUS LINK SECTION.

Gaming - for me at least - is fever pitch right now. We are just over a month away from the newest next generation titles landing in living rooms all over the world. 

I am excited - and yes, I have just booked two days off specifically to play my own machine of choice come release date. 

I. Can't. Jeffing. Wait.

Last week, while I was waiting the X-ray on my ankle (see above) and after I'd finished some strategy amends on a client presentation AND shown a particularly inquisitive colleague (hi Sharmin) just how swollen my ankle was (it was VERY swollen) (both conducted entirely over Teams mobile - what a service), I decided to put some twitter words together about what games might be worth getting on the (frankly MASSIVE) PlayStation 5.

That thread is here.

But since then, the PS5 launch title list has grown from seven to nineteen (and is still growing). 

So between finishing work and sitting down to write this tonight (it's 22:45 on a Thursday as this digital ink appears before my eyes), I knocked up this website: PS5launchtitles.com.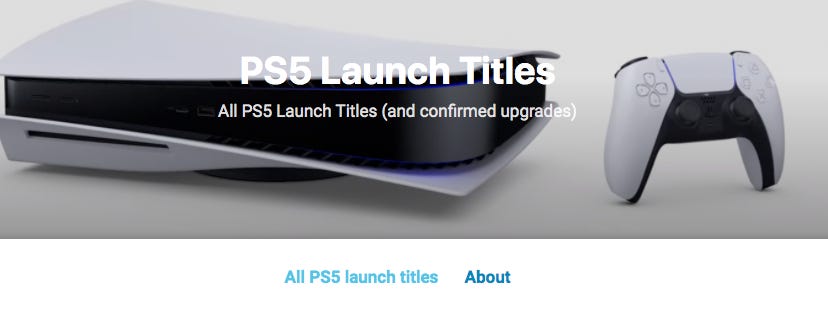 Built to act as a decent source of launch games and upgrades that coming on day one. It's just titles and links at the moment but I'll get some uninformed opinions next to them soon. Maybe at the weekend.

Point being: know someone getting a PS5? Send them that sight.

NEXT THING.

Given my recent uptick in public conversation about my undying hobby, I've had a fair few questions about what to choose this gen: Xbox or PlayStation. Well, the first and BEST answer to that question is always: what do your friends play on? Playing where your friends are is the best and only way to choose, really. 

It's what made me make the jump from Xbox360 to PS4 last/current gen (the PS4 was my first PlayStation) and you should use similar patterns when choosing your next machine.

BE THAT AS IT MAY. 

If you have no friends or simply just want to get the best machine right now then my answer, in the short-to-mid term at least, is: the PlayStation 5. I pitched (and won) PlayStation in my last job and something that I knew in my bones but came through in quant and qual is that when it comes to gaming, gamers want one thing: GAMES. And Sony, *undeniably* has delivered smash, after smash, after smash on PS4. That brand love - and user trust - has built up over the past 5yrs and the next gen comes with promise. I want to play new Spidey in the best way possible. And more. I can only do that on the PS5 and if Sony go on to deliver HALF the killer hits that they've brought to bear this gen then I will know I have made the right decision.

'But what about Xbox, James? They're smashing it on the marketing front'

Yes, you're right. They are. And I think I can see a day where I will no doubt be handing over a wodge of cash for an Xbox Series S/X but it wont be this year, it might not even be next year.

Xbox has the right strategy (arguably lifted from Sony - we'll get to it) and as soon as it executes on the games, more gamers will follow. 

The fully re-energised Xbox machine (the product and everyone that works on and around it) is so interesting to me.

Let me unpack.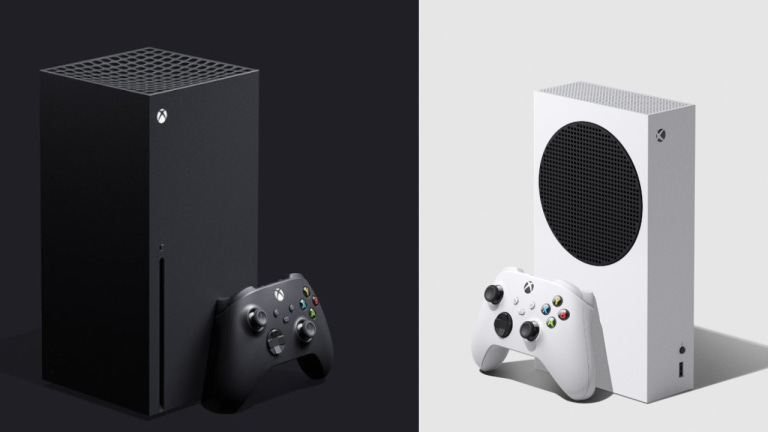 Phil Spencer, Head of Xbox has gone on record saying that the player is at the centre of their strategy. Sony's '#4ThePlayers' strapline that underpinned the early years of PS4 worked so well for them and Xbox has taken it and not only adopted the approach but also ensured it touches every part of its division. 

"We want to enable everyone to play the games they want to play, with the friends they want to play with, on any device. On TV, the Xbox console is going to be the best way to play console games." - Phil Spencer

They've looked at Player Needs and responded accordingly.

Xbox is  systematically executing their own player-centric strategy and it shows. 

For example: 

Player product needs:
'I want to play...'
Player info needs:
'I want to know...'
Player trust needs:
'OK, so now keep your promises...'

These are all examples of the player-centric strategy that Xbox is pursuing. By asking the question: how do we ensure that gaming is accessible no matter who you are, where you are, or what budget you have? Xbox is putting its energy in the long game. 

Player. Centricity. 

Last gen, Sony had their tagline of 'For the Players'. After Xbox messed up their game-sharing/DRM with the Xbox One, Sony came back with this monster viral gut punch - and it stung. And I think it still stings.

When I wrote the opening strategic lay up (this time for the global pitch) I wrote something along the lines of 'PlayStation won this gen, next gen its theirs to lose. Sony has the install base (113m+ PS4s sold) and the brand love BUT it seems, this time around at least Xbox is and if you'll excuse the pun, playing a different game.

It is a great approach and as I said above, when the studios that Xbox has bought up start delivering on those killer exclusive titles (arguably the only thing that Xbox is missing) then things will be super interesting.

Healthy competition is good the player and good for the industry. Let's check in on this again in six months and see where we're at.

It's a date.
4. CREATE SIMILAR PLAYLIST
There are two reactions that Spotify users will have to this piece of information.

And you, as you read this information right now (if you're a Spotify user), will have ONE of them.

Reaction 1: OH DUDE, YOU ONLY JUST FOUND THIS?
Reaction 2: WHAT?! HOW LONG HAS THIS MAGIC BEEN THERE?!

Let's see.

Spotify users, open Spotify on your desktop.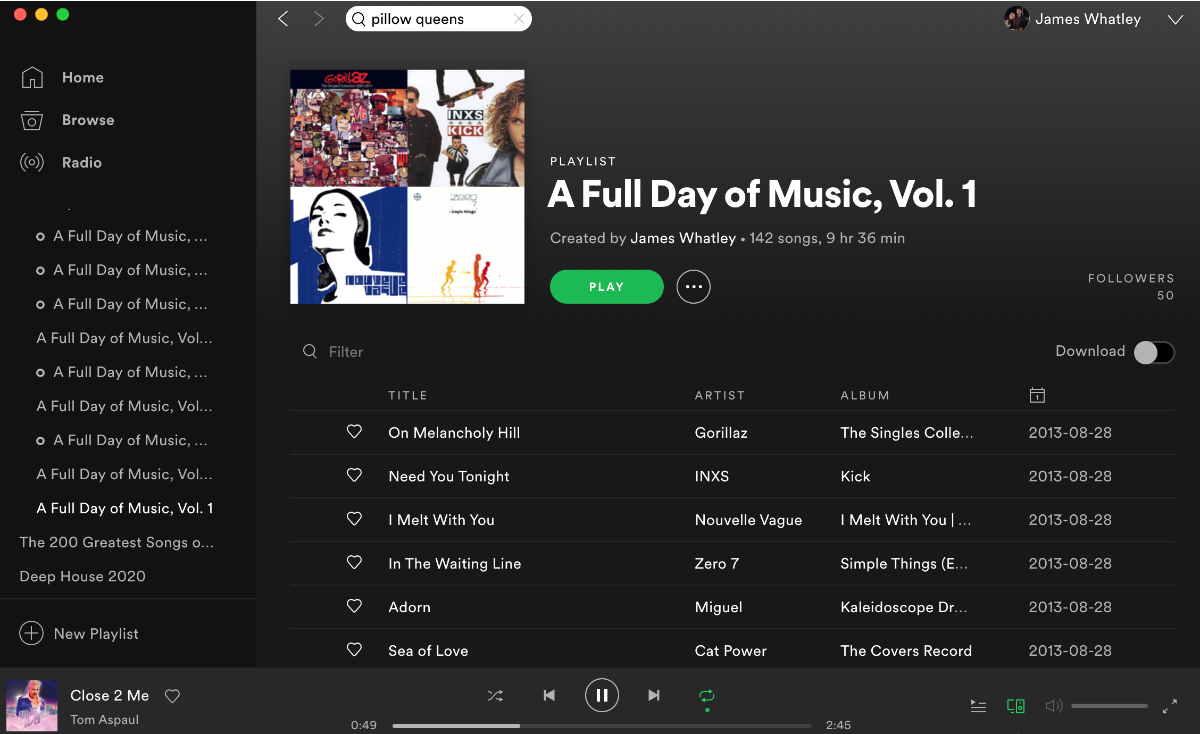 Done that? Good. Right, now select one of your favourite playlists. For this demonstration, I've gone into my Full Day of Music folder and gone right back to FDOM Vol. 1.

Now take your mouse left and hover over the playlist.

You're looking for that option, right there...
CLICK.

And you're done.

SPOTIFY JUST MADE YOU A NEW PLAYLIST BASED ON THE ONE YOU ALREADY LOVE.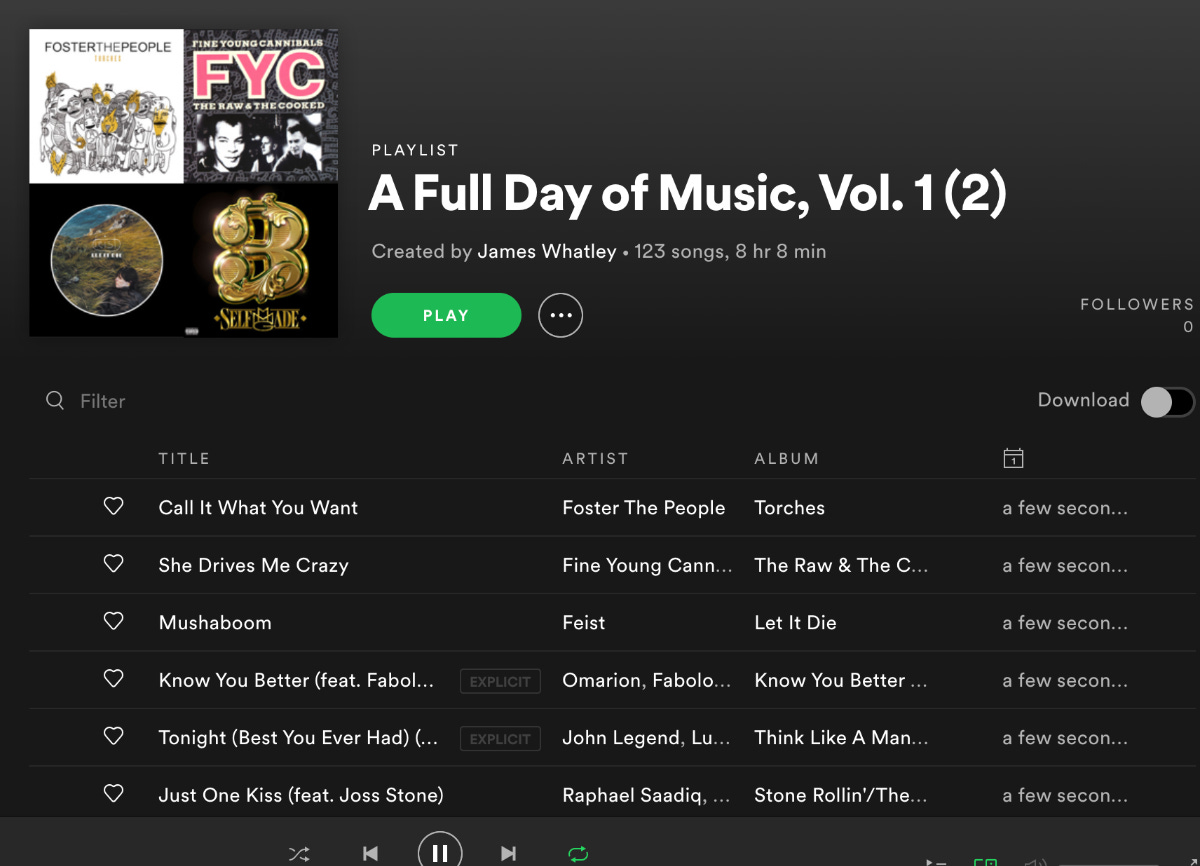 MAGIC.

And to all the OH DUDE, YOU ONLY JUST FOUND THIS? folk, keep it yeah?

YOU'RE WELCOME. 
5. MICHAELA COLE AND DONALD GLOVER
"Would you rather see all the opportunities and not have them or have all the opportunities and not see them?"- Donald Glover on being asked 'Wouldn't you rather be white?'

As promised, here's the second of the bookend of GQ articles. And I really have saved the best for last.

GQ in its infinite (and seemingly growing) wisdom, asked Michaela Cole who she would like to talk to. Michaela said 'Donald Glover'. 

The rest is in this stunning, powerful article. 

Two creators, talking about their experiences, process, drive, the things they have in common (and the things they don't) and it's a Sweet Christmas Privilege that we get to eavesdrop on it.

Read the whole thing - and be inspired.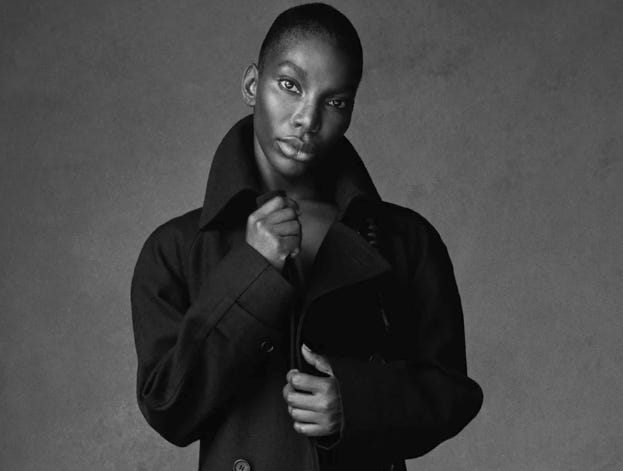 BONUS LINKS
WON'T YOU TAKE ME TO, BONUS TOWN?
WON'T YOU TAKE ME TO BONUS TOWN?

Bonus links. 
We all have them.
And now you have more. 
AND FINALLY, if you ever played Wii Sports,you will LOVE this.
THIS IS THE END OF THE NEWSLETTER
It's 00:52 as I get here. The words are out and, as it is officially Friday, I think I'm just gonna go ahead and hit send on this bad boy right away.

I can't believe I've made it through this whole thing without going off on one about how much I am back in love with No Man's Sky again. Or how much I've been enjoying the rain. Or even that whole other drafted Thing about New Year's Resolutions that I've got sketched out around here somewhere...

Damn. I'll have to come back to it. 

Next time you'll hear from me it'll be from Substack. If you don't hear from me in a couple of weeks, please head to https://fivethingsonfriday.substack.com and look me up. 

Until then my friends, take care of yourselves. It's tough out there, tougher than ever - and you can't ever know what pain others are going through. So take a breath, take a step back.

And be there. 

You matter. x

This one's for you, Arnt.

Whatley out.